Volume 1
Hands-on and step-by-step, how Artie Almeida integrates recorders into her amazing Bear Lake music program. Music arranged by Paul Jennings.
Volume 2
Volume 2 picks up where Volume 1 left off and adds a lot of new information and specific classroom techniques and music. A wider range of notes is covered, as well as suggestions on starting and running recorder ensembles.
---
Students Practice Online
Students, you can practice recorder any time here online. Just click the Practice link. Ask your teacher for the password.
Student Books... For Your Convenience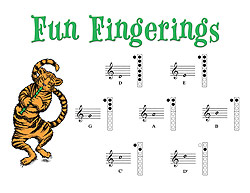 In the Teacher's Handbook there are recorder parts for all of the exercises, teaching songs, and bonus tunes, and you have the legal rights to duplicate them for all of your students. But for your convenience, we also offer Student Books in reasonably priced 5- and 10-packs. These books feature all of the songs and exercises as well as a colorful fingering chart on the back of each book.
Free Extras For Teachers
Teachers, we have free downloadable web extras for you, as well. Visit the Extras section to download materials mentioned in the handbook.